WALUNG
, refers to the fox (Tibetan: Wa) who, in village folklore, offered guidance (Tibetan: Lung) to the lama who founded their ancient monastery
When we travel, sometimes there is a strong, often enigmatic something - that first draws us to a particular place and then keeps drawing us back. For me one of those places is Olanchung Gola, a remote Himalayan community deeply rooted in rich Tibetan cultural and historical traditions. I first 'discovered' the village in 2014, while researching a remote trekking expedition for our affiliate company,
Whistling Arrow
,
and, with my longstanding passion for traditional Tibetan rugs, was immediately struck by the artisanal pieces that I found.
Most years, typically in November, I head back to eastern Nepal to explore this spectacular region, and once again join old friends in celebrating their annual village festival. Every year, I usually source a few more hand knotted rugs directly from the weavers that made them. In continuing to replace the Walung Rugs collection, I hope to contribute in some small way to empowering these wonderful women, and helping them sustain their ancient craft; one that has sadly disappeared throughout most of the wider Tibetan Himalaya (with collectable tantric artefacts largely replaced with poor factory-made imitations).
I hope you can spot the difference - and enjoy these thick Tibetan wool rugs as much as I do.
Adrian Bottomley (Chief Rug Officer:)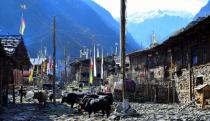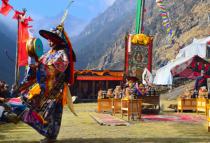 Perhaps I'll join the weavers for a traditional Tibetan dance this year!
Some of the weavers enjoying a dance at festival time.
Processing video...